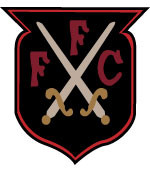 The 1898 Fulham Football Club badge

This team badge appeared on Fulham shirts in 1931, this being a representation of Craven Cottage, this badge was used until the outbreak of the 2nd World War in 1939.
After the War, a new crest was introduced in 1945, which was a copy of the coat of arms of the London Borough of Fulham. The earliest versions had the crest emblazoned on a red shield with the team name directly below in a stylised ribbon. After 1951 the badge was slightly amended by reducing the size, changing the red background to white and removing the legend below the shield.

This classic design was worn until 1972, by this time the coat of arms was deemed old fashioned and was replaced by a a more up to date FFC monogram.

The monogram was subsequently replaced in 1981 by a simplified version of the Hammersmith & Fulham coat of arms. After only one season this was replaced by a circular badge, however it was reinstated a few seasons later in 1984.

In 1995 a new crest was introduced that was effectively a modern coloured take on the 1945 version simplified for easy mass reproduction.

In 2001, a new shield with an angled red FFC on a black and white striped background was introduced for the first Premier League campaign.