Crystal Palace
Eagles, Glaziers, Palace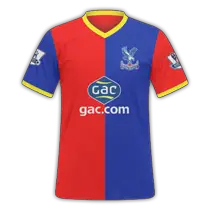 Crystal Palace Football Club are an English Premier League club based in South Norwood, South London. The team plays its home matches at Selhurst Park, where it has been based since 1924. The club will compete in the Barclays Premier League in the 2013-14 season.
Crystal Palace was formed in 1905 by workers at The Crystal Palace. The club reached the top division of English Football in 1969–70, and its first major final was in 1990. It was relegated from the top division in 1973 and once again in the following season. That left the club playing in the third tier of English football for the 1974–75 season, before being promoted back to the top level by 1979–80.
Crystal Palace's most recent successful period began in 1988–89, when the club finished third in the Second Division and was promoted to the First Division. It reached the 1990 FA Cup Final only to lose the replay against Manchester United, and finished 3rd in the First Division in 1990–91. Palace was a founding member of the FA Premier League (1992–93) but was relegated that season. Since then Palace has been relegated from and promoted to the Premier League on 4 separate occasions. Its most recent relegation from the top flight was in the 2004–05 season.